Our Projects
We're working with com­mu­ni­ties to improve
nutri­tion in Nepal
We work directly with communities affected by malnutrition in districts across Nepal. At the heart of each project is a desire to see Nepalis gaining and using knowledge to improve the health and wellbeing of themselves, their families and their communities.
Part­ner­ing with organ­i­sa­tions and local groups, NPCS selects areas of need and works with the com­mu­nity for several years to create aware­ness, effec­tively improve nutri­tion and track along with vul­ner­a­ble people as their well­be­ing improves.
Some of our activ­i­ties include:
Explain­ing basic con­cepts of food, nutri­tion and a bal­anced diet

Teach­ing people how to cook and prepare easily avail­able local foods

Explain­ing common nutri­tion prob­lems such as protein-energy mal­nu­tri­tion and micronu­tri­ent defi­cien­cies, and how to cure these

Spe­cialised coun­selling and regular follow ups for preg­nant women and new mothers

Pro­vid­ing train­ing for local women's and com­mu­nity groups

Regular growth mon­i­tor­ing for under‑5 chil­dren and follow ups with mal­nour­ished kids
For each project, we conduct surveys before and after to measure the results of our work. We also empower local nutri­tion vol­un­teers to provide support to the com­mu­nity after the project has finished.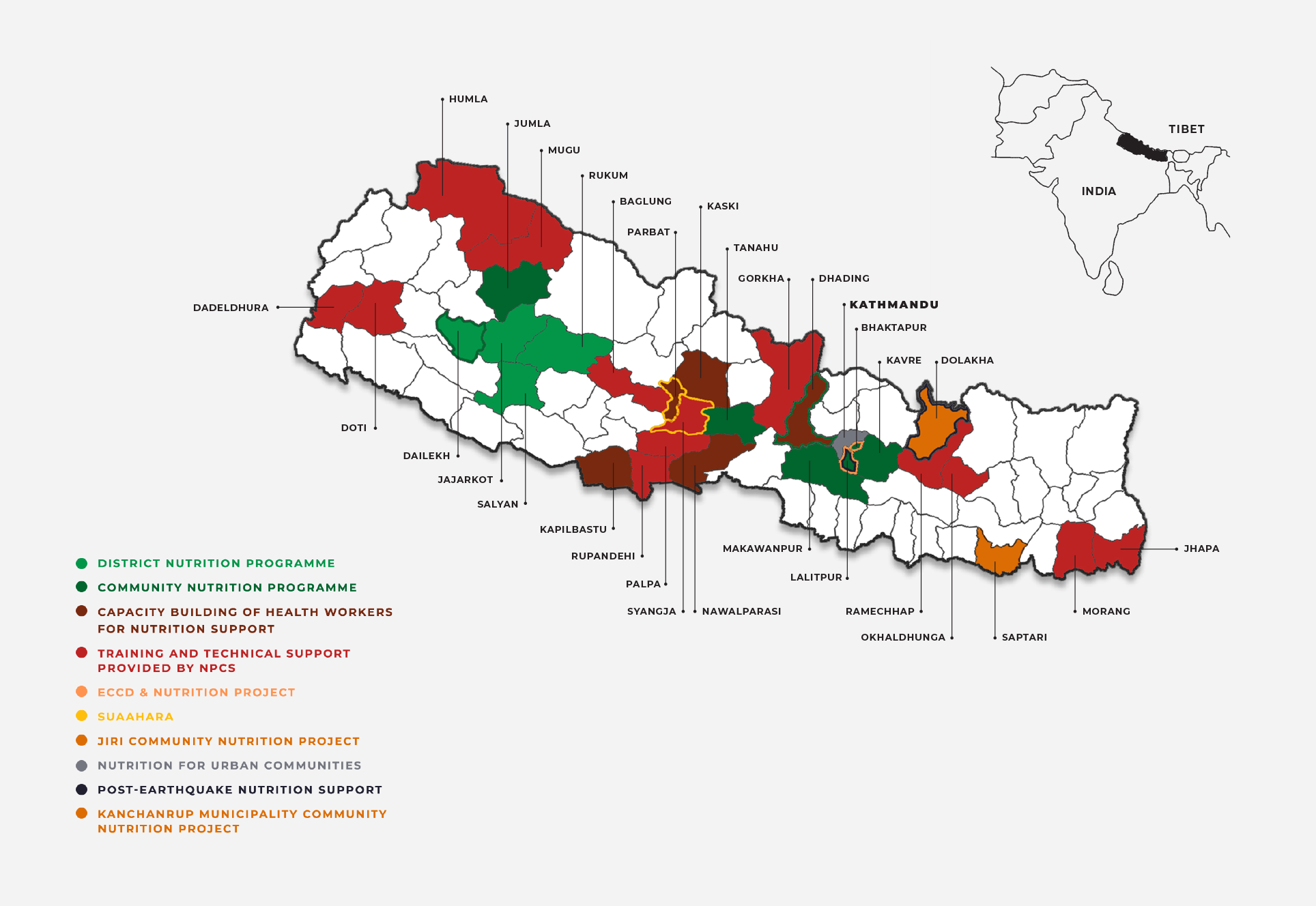 CMS Ireland partners with NPCS to improve nutrition for babies and families in Nepal. We are privileged to work with an organisation of integrity and vision, committed to supporting those most vulnerable with practical and appropriate interventions
— Jenny Smyth, Mission Direc­tor,
Church Mis­sion­ary Society Ireland
NPCS has been effective at winning the trust of both community leadership who encourage and support mothers to participate, and Government Health Post staff who support NPCS growth monitoring activities and take responsibility for childhood immunizations and primary health care needs
— Kath­leen Grif­fith,
General Board of Global Ministries/
The United Methodist Church